Sofia Paiz (ESA) is preparing for her first edition of The World Games after she qualified to compete in Archery in Birmingham 2022. "It was my biggest goal to qualify for The World Games, it's like a dream come true! It means a lot for me and my family," Paiz says. She is our athlete this week Building up to Birmingham!
Sofia Paiz qualified for The World Games 2022 in November 2021. But her mother had been preparing even before that: "I knew she would qualify, so I ordered The World Games 2022 gear for her and her team-mate Roberto Hernandez even before the results came in!" Paiz' mother Thelma Garcia says. And after the qualifications, some more 'out of sport' preparations have been taking place: "I have got my first tattoo," Paiz says. "It is The World Games logo on my ankle."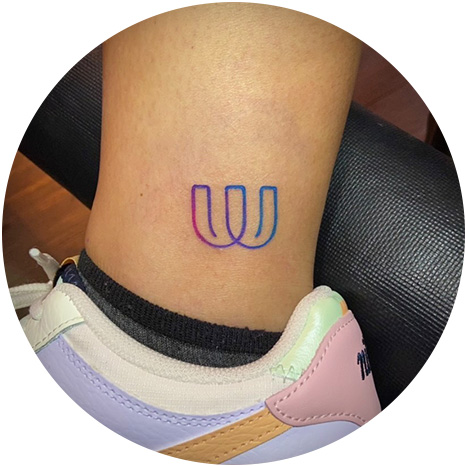 The World Games 2022 in Birmingham, Alabama, will be Paiz' first time at the multi-sport games. "It was my biggest goal to qualify for The World Games, it's like a dream come true! I expect to have a great performance there, concentrate on my shooting and mental game, and hope that will take me to the finals!" If Paiz has time to watch other sports during the Games, she is curious about Tug of War, but also wants to see Speed Skating, as she used to practice the sport. "One of my goals for 2022 is to enjoy this experience as much as I can, and the other one would be to work hard so that I can shoot at the finals and hopefully win a medal."
"I started Archery at the age of 15 because my two sisters used to practice it, and they invited me to the initiation class and I ended up loving it," Paiz says. "I had tried swimming and speed skating but I never felt like I wanted to continue in either of those – not because I didn't like them but because I wasn't that fast - so when I got introduced to Archery it felt amazing and I fitted perfectly."
Sofia Paiz says that Archery training is very repetitive: "It's basically warming up, stretching well and standing in the shooting line, and shooting between 180 and 250 arrows per training session. I do 2 sessions per day. It takes like 3 hours, concentrating all my attention on what I am doing and feeling with every arrow, and after that I hit the gym for like 1 hour or 2." Besides Archery, Paiz sometimes likes to run or ride a bike just to clear her mind. Besides doing sport, she has studied to become a flight attendant and is currently trying to learn some French.
The months before The World Games will be spent preparing for Birmingham. "I will do two shooting sessions per day with 180 to 300 arrows, gym work just to maintain my strength, a lot of mental training with a sports psychologist, eating a more balanced diet, and enjoying the journey for sure! That's a very important part!" Paiz says.
Finally, she answers the rest of the questions from social media:
What do you love most about archery?
- The feeling behind the bow before shooting, the moment where I'm aiming and feeling control of it.
•Why is Sofia a crack? I am your fan!
- I don't know thank youuuuu ✨
•Do you have a special moment that you remember and helps you keep on going when you feel down?
- I don't think I have a special moment, but I like to remember the little but beautiful things in life, small gestures, some jokes or a good day with family and friends.
•How many hours do you train per day?
- it depends on the process, but between 6 to 10 hours including gym hours
•Do you have any pets?
- Yes I have a lot of pets I have 4 dogs, 2 cats, 3 guinea pigs ❤
 The World Games is a multi-sport event staged every four years by the International World Games Association, organised with the support of the International Olympic Committee. The 11th edition of The World Games will be held in Birmingham, Alabama, USA, 7-17 July 2022. 3,600 athletes from 34 sports and over 100 countries will take part in The World Games.