COLORADA SPRINGS (14/1/2014)
IWGA-Voting: Sumo & Flying Disc in the lead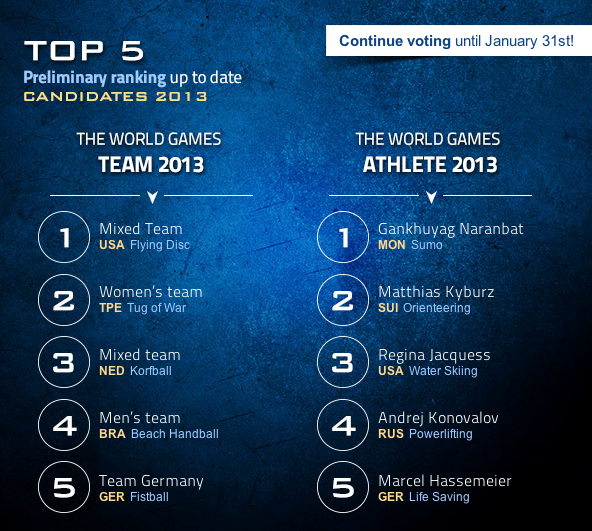 The race for the IWGA Athlete of the Year and the Team of the Year 2013 is starting its quick burst of. With 3112 votes, Mongolian Sumo wrestler Gankhuyag Naranbat was able to break away from his nine competitors in the individual category after the first week of our online voting. He is followed by Matthias Kyburz (Orienteering) from Switzerland and Regina Jacquess (Water Skiing) from the USA with 2324 and 2315 votes, respectively. The American Flying Disc team took the lead in team competition with 4890 votes. On rank two: the gold winning Tug of War women team from Chinese Taipei (1555 votes) followed by the Dutch Korfball team (1360 votes).

But nothing has been decided yet. The example of the gold medal winner from Cali 2013, Gankhuyag Naranbat, shows how fast things can turn around. Within three days he was able to collect 2000 votes and to push ahead in the ranking. The Flying Disc team from the US received 3800 votes in only three days as well.

If you want your favourite to win the IWGA Athlete of the Year and Team of the Year 2013 competition, you can vote for your athlete or team on the IWGA website www.theworldgames.org until 31 January.
And: You have one vote per day!