Voting on the IWGA Athlete/Team of the Year 2013

Sumo and Flying Disc take the lead
COLORADO SPRINGS (22/01/2014)

COLORADO SPRINGS (22/01/2014). The title race is still open. When it comes to choosing the IWGA Athlete of the Year/Team of the Year, the decisive vote has not yet been cast – even after the second week of voting. Until January 31st supporters can still help their favorite athlete(s) win by participating in the voting on the website:

www.theworldgames.org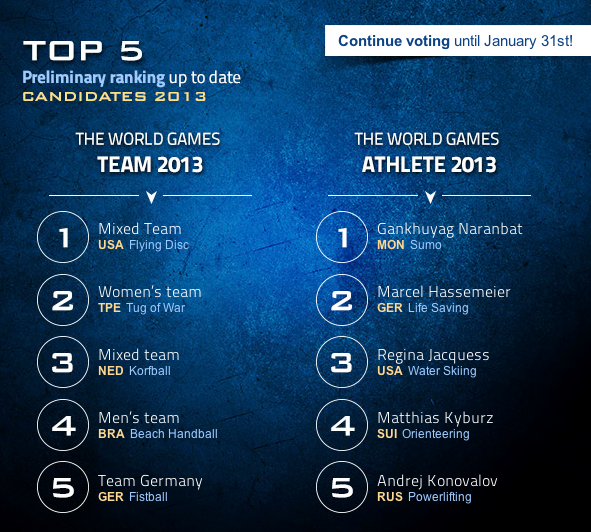 Looking at the individual athletes, we see three out in front a triple header. The Mongolian Sumo wrestler Gankhuyag Naranbat is currently leading with 7,389 votes. Second is the four-time gold medal winner from Cali 2013, Marcel Hassemeier from Germany, with 6,062 votes. The third place currently goes to Regina Jacques from the USA (Water Skiing) with 5,378 votes. In the team ranking the gold medalists in Flying Disc from the USA have taken the lead (or "edged in front") with 8,182 votes. They are closely followed by the women from Chinese Taipei who proved unbeatable in Tug of War (7,808 votes). The mixed team in Korfball from the Netherlands is placed some distance behind them (2,888 votes).

However, nothing has been decided yet, because the friends of their sport or of a specific team or athlete can still cast their vote on a daily basis. Those who know how to mobilize their supporters can still come out on top. Voting closes on January 31st.