Dzienski and Williams – the runners-up in the 'Athlete of the Year' poll
Speed Sport Climber Marcin Dzienski, Poland, took a huge leap in the final days of voting for IWGA Athlete of the Year, but did not manage to catch Muaythai fighter Sofia Olofsson in the last stages of the race. With his 12,499 votes he was in a clear second place ahead of Powerlifter Ray Williams from the USA (4,155 votes). The voting took place 5–31 January and a total of 40,203 votes were cast.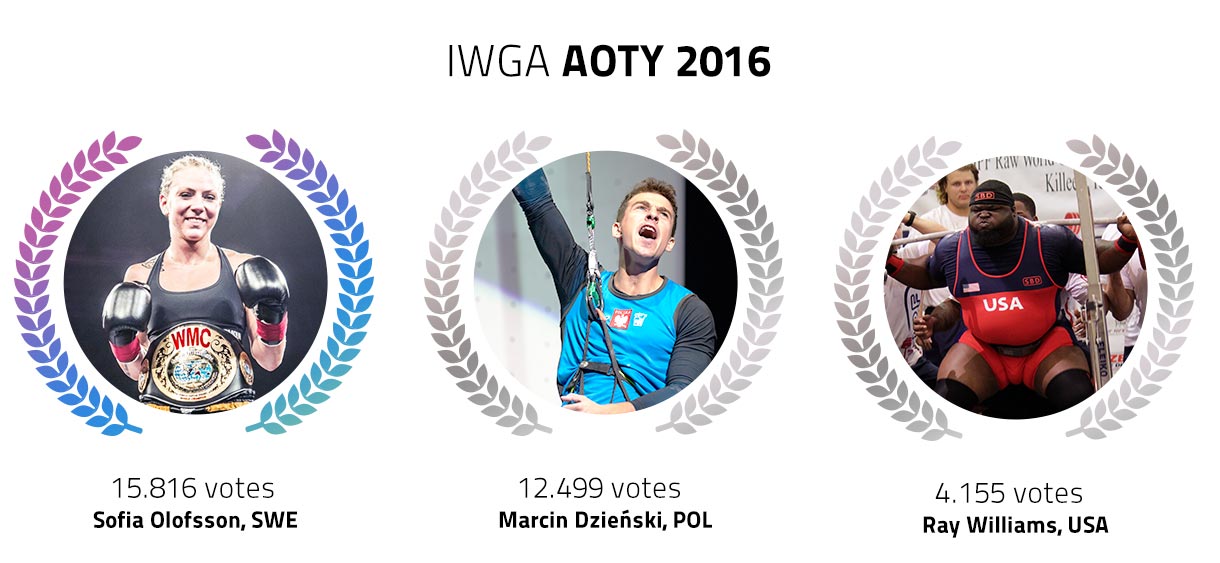 Marcin Dzienski, who has been called "Sport Climbing's Usain Bolt" by the Olympic Channel, topped the IFSC Speed rankings and became the first Polish Sport Climbing World Champion in 2016. After the victory, he wrote on his Facebook page: "I have got it all, but now it is time for something even bigger – The World Games 2017." And he is indeed one of the big favourites when The World Games take place in his home country in July.

The year 2016 was a real break-through for Marcin Dzienski. Having won a World Cup event once before (2014), he won three World Cup rounds and the World Championships in Speed Climbing in 2016. He says he really loves competing: "I like climbing outside, it's fun, and kind of relaxing. Competing is what I love – the adrenaline, rivalry, victory and defeat. You train hard the whole year just to go and make this run, to bite your opponent, bite yourself."
Our top Speed Climber's advice to young athletes is: "Never give up, be yourself, do what you love and do it with love."

In 2016 Ray Williams won his third consecutive IPF Classic World Powerlifting Championship. At the event in Texas, USA, the 29-year-old athlete also set a new squat world record at 438 kg and a new total world record at 1,043 kg.
In October 2016, Williams pulled off the first-ever 1,000-plus-pound raw squat lift in history, putting up 456 kilograms (exactly 1,005.3 pounds) at the USA Powerlifting Raw Nationals in Atlanta, Georgia. Williams performed the lift under the "raw" standards of the International Powerlifting Federation, meaning no "squat suit" and no knee wraps – just a standard weightlifting belt and knee sleeves. It's the first time an athlete has squatted more than 1,000 pounds raw in a drug-tested competition.
Sofia Olofsson, Muaythai, was voted IWGA Athlete of the Year 2016 with a massive number of votes (15,816). She will be awarded the Athlete of the Year trophy in cooperation with the International Federation Muaythai Amateur.
Check out the number of votes cast for all of the candidates here.