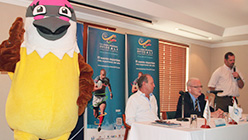 Bichofué Gritón will give wings to The World Games 2013
The Cali Local Organizing Committee presented the official mascot of The World Games 2013 at a press conference in Bogota, with broad nationwide response.
Bichofué Gritón will give wings to the event that is taking place in South America for the first time since the The World Games began in 1981.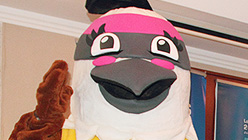 Bichofué is a well-known bird in the Cali area, where The World Games will take place this year from 25 July to 4 August. The mascot will accompany athletes and visitors during the ten days of the event and make its appearance in the Opening, Awarding and Closing Ceremonies. It will also be seen on all kind of merchandise for the event.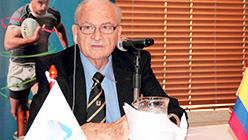 The same week, the yellow bird with the black mask, which will be represented in both female and male versions, introduced itself to the IWGA officials during a meeting of the CLOC and the IWGA board. IWGA president Ron Froehlich said: "I am convinced that Bichofué Gritón will be well received not only by the people in Cali and Colombia but also by the international audience. A symbol for the wealth of flora and fauna in Colombia, it will become an ambassador for the country's beauty."