"Most of our Member IFs have successful Sports for All programs in place," says Froehlich. "These IFs are aware of the relevance such programs have in the development of their sports and, even more importantly, in the societal context.
"Given the nature of The World Games and the make-up of this organization, IWGA should be a catalyst in the coordination of some of these Sports for All activities.
"The World Games have provided on at least two occasions the opportunity for the participating sports to reach out to the residents of a host city and country through campaigns under what were Sports for All themes."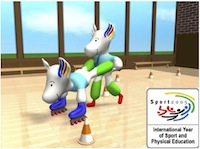 Froehlich refers to initiatives such as the Fun Day, an innovative concept that served to acquaint young and old with the 30+ sports of The World Games through entertaining workouts. The concept was developed by physical education teachers of the Duisburg Sports Council months ahead of the games in 2005. Fifty adaptable exercises were designed as playful first encounters with sports ranging – alphabetically – from aikido to water skiing. For physical education classes at schools in North Rhine-Westphalia, for psychomotor education in a kindergarten as well as fitness training for senior citizens!

The IWGA President is convinced: "Fighting obesity among children and adolescents and providing physical as well as social stimuli through sports to the youth and the elderly is our responsibility."

"I call on our member federations to think of ways to help, to come up with a proposal for their sports, and to join forces in a unified campaign that could be launched on the occasion of The World Games 2013 in Cali, COL.

"We had successful Sport for All programs associated with The World Games 1989 and 2005, it is time we start adapting them further and perpetuating them," says Ron Froehlich. "Even if time is extremely short for Cali 2013, we will already now start discussing this particular facet of The World Games with our Candidate Host Cities for 2017."

President Ron Froehlich puts the item "IF Sports for All Activities and The World Games" on the agenda of next year's IWGA General Meeting in Quebec City, CAN.