President of the Nation, Juan Manuel Santos, visits The World Games in Cali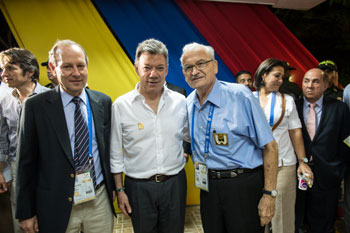 CALI 01/08/2013 After having to cancel his participation at the Opening Ceremony on Wednesday due to a week of health issues, the President of Colombia, Juan Manuel Santos, paid a visit to The World Games in Cali.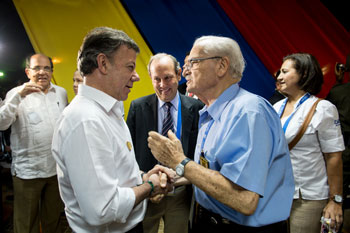 The President watched the Korfball tournament at the World-class Coliseum. After the game, he gave a press conference and met with IWGA President, Ron Froehlich. Juan Manuel Santos thanked Froehlich for his vote of confidence in the execution of this multi-sport event in Cali. IWGA's President had a short and personal conversation expressing the recognition of the IWGA and the Federation Members for the 9th edition of The World Games, known for the great hospitality of the people in Cali. President Santos named Cali as the city equipped with the best sports venues in Colombia. This was also a development to thank The World Games and part of the legacy of this event.